I am living a fantasy life in my bed at the moment.
I close my eyes and I am elsewhere.
I'm in Dubrovnik and Cape Town. I'm in the Plaza Athenee in Paris.
It's not that there's anything wrong with my bed. Unlike the lumpen, shallow distortions we slept on in rental properties in London, our bed in Sydney is somewhat sublime. It's wide and firm, with a satisfyingly light bounce. The only problem is that it's also currently a spot for multi purposing.  Instead of crystal glasses and complimentary hand cream on the light stand, there's a tall jug of nursing tea and a tube of Lansinoh. In amongst the sheets are white terry cloths to catch stray possets from an infant and there's probably a dummy or two strewn in the duvet.  For the past 13 weeks it's been a station of occasional snatches of sleep and long dark stretches of feeding. The smile on the face of the little one mewling for food at 3.42 am makes it all worth while- but… sometimes, in the middle of the night it's nice to close your eyes and pretend you're elsewhere. So here are my nominations for the three best beds that I know of in the world. I'll see you there- in my dreams.
1) Pod Hotel, Camps Bay, Cape Town
Pod is compact, with 15 rooms and it categorises itself as 'barefoot luxury', on the blonde curve of Camp's Bay, Cape Town.   Two Christmases ago, The Hungry One and I arrived there early from an overnight flight from Heathrow.  It's a study in rustic elegance; marrying wood, stone, glass and leather. Bedside tables are made from smoothed logs, and the bed base thoughtfully curved to prevent midnight injury to shins. The wifi is lightning fast and there are dvd players so you can borrow from the hotel's library of favoured films.
Beyond the Charlotte Rhys amenities on the bathroom bench, in the cupboard we find fluffy robes and branded flip flops. At the merest mention of a trip to a beach a basket is packed for us with fresh towels, cold water and staff are dispatched to set up chairs and an umbrella on the sand.
Two days into our stay we are upgraded to one of the superior rooms- we've traded in our shower and balcony plunge pool for a corner room the size of our London apartment. It boasts a bath large enough for a buffalo; two rainwater shower heads and a spectacular view from the second floor balcony. And the bed. It's cosseting and firm – and broad enough that you'll never find another person in it- unless you go purposely looking.
Pod Hotel
3 Argyle Street  Cape Town 8005
021 438 8550
www.pod.co.za/
2) Villa Dubrovnik
'Romance forever'. 
This is what's promised by the promotional materials of Villa Dubrovnik. That's a steep level of commitment for a hotel; even one with a 12pm check out and the offer of vaporetto speedboat transfers to the centre of town. Villa Dubrovnik is a modern marvel of a hotel, perched on the cliffs of the St Jacob Precinct, an easy 15-minute walk east of Ploče Gate. From street level it first appears as a subdued concrete cube. The elevator entrance is staffed by men sporting perfect English, mahogany loafers and white linen shirts and trousers to offset their Adriatic tans.
It's down in the lobby that you realise this is an understated place, in the best sort of way. It's the sort of destination that reminds you more of a mansion belonging to an exceptionally rich friend than a hotel. That, or a holiday home of Christian Grey/James Bond/George Clooney/insert your wealthy object of fancy here. The interiors are calming and cool; coming over all dark woods, slate grey, sandstone and ghostly tiles. Set over four levels, stairs and glass elevators link the lobby and facilities to the fifty rooms and six suites. At the crest of the building is the sky bar, with unparalleled views over to the Old City and Lokrum island. It's hard to find a better place to nurse a Campari and watch the light fade over the super yachts that grind in and out of the harbour. Nestled in the belly of the hotel are the spa, gym and yoga and pilates retreat. On the lower deck you'll find another bar, library, indoor swimming pool, with its four poster day beds, and the restaurant Pjerin. At the very bottom there's the garden bistro, boutique and the 'beach', with ladders descending into the aquamarine and wifi that extends to the shore.
But that's if you can bear to drag yourself away from your suite with its king size bed, Bvlgari amenities and jacuzzi.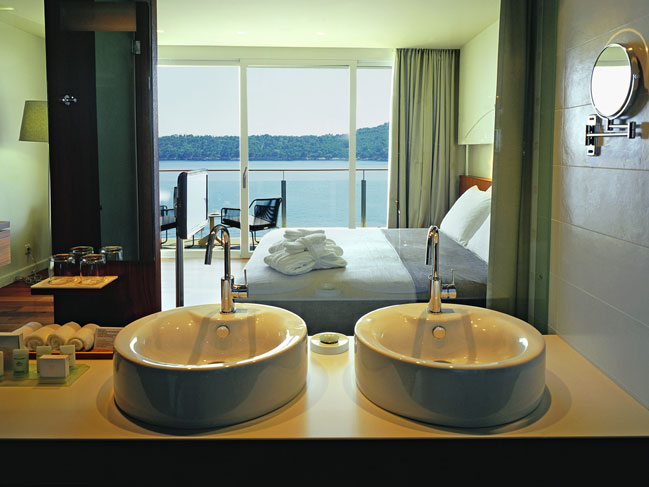 And while romance may be forever, breaking up is very hard to do. So when the time came to leave this place I wasn't quite sure if what was clinging to the top of my cheek was the salty residue of the harbour, or a little piece of my heart.
Villa Dubrovnik
Vlaha Bukovca 6, Dubrovnik, Croatia. Tel: +385 20 500 300.
Website.
3) Plaza Athenee Paris
It was a little surprising to discover that one of the 45 suites at the Plaza Athenee that we found ourself staying in is larger than our flat in London.
Both the bedroom and the sitting room are blessed with chandeliers. The desk is gilded and worn. The carpet is thick enough to buff a shoe. There's a pucker of pink tea roses on the table. Cuddling up beside it is a bottle of Alain Ducasse Champagne on ice and a giftwrapped box of pears.
This is a lounge room best suited to brides or those settling affairs of state. Ghost-set into the mirrors are televisions. Embedded inside the televisions is a juke box, programmed with music. We opt for a classical selection to accompany us as we throw open the felt-lined silk taffeta curtains.
And then, there's the view. Beyond the bustle of Jaguars and Phantoms up Avenue Montaigne, above the hotel's classic hedge boxes of red geraniums, there's the most clichéd of Paris sights. Watching the sky around the Eiffel Tower streak pink while you sip Champagne on your private balcony. This is such Paris as wistful sighs are made on.
There are other things to love about a suite like this: the two wash rooms with judiciously clear instructions on how to operate the shower; the white-tea scented toiletries; the most recent issues of Vanity Fair and, believe it or not, a heated toilet seat with a built-in bidet spray.
Then there are the closets. The walk-in wardrobe shames my small carry-on. My dress for dinner is dwarfed by a hanging space large enough to fit an entire summer collection. And then there's the bed. It's not just a king, it's a bed that's built an empire. It's swathed in Egyptian cotton at a threadcount I can't muster. If ever there's a bed that makes you feel royal, this is it.
These are the places that ruin you for life- in the best sort of way.
Hôtel Plaza Athénée Paris,
25 Avenue De Montaigne, Paris, 75008 France. Tel. +33 1 5367 6665
Nb, for the sake of disclosure, all three of these hotels were stayed at on press rates while writing for The Arbuturian