A place in the sun, a dip in the sea; perhaps a cocktail, novelty umbrella optional.
After a London winter, this is the brief. Cyprus beckons; the birthplace of Aphrodite, far enough south for warmth and with a promised 320 days of sunshine per year, moussaka, mezze, aniseed spirits in small clear glasses. Turquoise water and – for the Australians among us, this bit is important – sand.
Capo Bay is a smartly modern resort complex on Fig Tree Bay in Protaras. It's an hour's drive in the dark over a dual carriageway heading east from Lanarca Airport and 10km away from the pit of partying known as Ayia Napa. I'd like to say we found the resort easily without GPS (word for the wise, TomTom doesn't have Cyprus maps yet, and there's no network to connect the Google crutch to). For those in the same situation as us at 11.30pm on a Friday, just craving a kebab, beer and a sleep in a clean bed, you want to turn left when you see McDonalds. You can access the hotel from there.
Fig Tree Bay is rumoured to be one of the prettiest on the coast. It's an enthusiastic smile of sand, flanked on one side by a walking and cycling path and dotted with white and deep blue sun lounges. The water is clear, disturbed only by moorings of small boats and a scrubby island 80 metres or so off shore.
As long as you're facing the coast, all is well. This resort is largely civilised. Breakfast buffets are included and hold everything a British holidaymaker could crave (though more than one selection of tea might not go astray). There are eggs and sausages, toast, pancakes, muesli and waffles. There's even sparkling wine for celebratory fizz. There are a few local touches; thick natural yogurt, hazelnuts and slices of haloumi, as squeaky as a kitchen sponge between your teeth.
There's free wifi in the cream and marble open plan lobby. Downstairs there's a slim gym with some free weights and cardio machines. There's an indoor pool adjoining it for grownups to swim in (and rotund gentlemen to sit idly in and ogle ladies working out). There are tennis courts which are floodlit at night. There's a spa that offers enthusiastic Swedish massages and even discounted indigenous Australian themed facials (among others using Payot products).
The civility stretches onwards to the beach. There are no stealthy early morning battles for prime sun lounge positions here. On day one, with the help of a towel attendant, you choose your location from what's available – perhaps overlooking the island on the gentle grass, or adjacent to one of the two swimming pools. Your room number and departure date is inscribed on a white board on the umbrella and in an official book. It's yours until you leave.

There are three restaurants on site; the buffet and two more overlooking the beach. Mama's Bay is a sound casual option for lunch, with generous portions of lightly battered squid and fat stuffed pides with chips and tzatziki. Next to that is the more upmarket 'Koi', a dark wood and white pavilion overlooking ponds with their large grey, white and burnt orange fish, who swim in lackadaisical circles and silently open and close their mouths like bullied husbands.
On the balcony of Koi you'll find plushy white bean bags and large day beds draped in wafting white cotton. Eating from the Japanese themed menu can prove challenging, but it is hard to think of a nicer place to sit in the sun and sip a coffee frappe or glass of local rose, as dusty pink as an umbeoshi plum.

During the day when the sky is clear Fig Tree Bay is a sound place to be. In April the water is cold and salty enough to make shaved legs pucker and sting. Just down the beach path there are plenty of watersports available, from jet skis, parasailing, banana boat rides, to floating plastic platforms with a slippery dip attached which you can tootle around the bay until you inevitably get stuck on an outcrop and someone has to come and rescue you. The soundest activity may be swimming out to the island and scrambling over rocks, to stand proudly and wave back to the hotel.

Yet doing that breaks the number one rule; face the water. And here is why. Protaras may be firmly in the Greek side of Cyprus (don't go about ordering 'Turkish' coffee. It doesn't go down well) – yet this is designed precisely for Brits seeking a place in the sun. The main strip of restaurants behind the hotel is littered with pubs offering 2 euro 'sex on the beach' cocktails and pints and 'pukka pies and pasties'. They're named witty things like Fools and Horses and Love Boat. The laminated menus of the local 'tavernas' are written in English and have 37 dishes, working their way from tzatziki and hummous, through to spaghetti, pizza, toasted ham and cheese sarnies and steak Diane. If you're keen on local food, a seafood or meat mezze for two people will provide some – and then some. It ascribes to the theory that more is often more. On one instance we counted 21 dishes across the table, from dips and pita to village salads, grilled squid, chips and a whole sea bream baked with rosemary in its belly. The better food within walking distance was often in the more modern looking restaurants, where you'll find a soundtrack of local muzak, perhaps a muted television, English children skylarking on adjacent play equipment and teenagers bashing air hockey pucks at each other from the games parlour across the street.
Though if you're going to turn your back on the sea for one more thing, it's this – do not miss the yogurt and fruits of the forest sorbet at the Napolea ice cream parlour, directly opposite the entrance to Capo Bay. Yes, the other combinations from the French ice cream maker of Snickers and Oreo are stickily rich McFlurries. But the yogurt and fruits of the forest is a clean living sweet song in a cup- and easily ranks as one of the best things I've eaten this year (for the plum price of 1.30 per scoop).
As for the rooms at the Capo Bay, they're large and modern with flat screen televisions, beige striped carpets and king sized beds large enough to easily sleep two who have just gorged on their second mezze of the day. While rooms are advertised as containing either Jacuzzi showers or baths, it's only in the duplex suits that you'll find jetted tubs. The rest of the rooms have snazzy over-bath shower arrangements with water that shoots from more holes in the wall than they possibly should.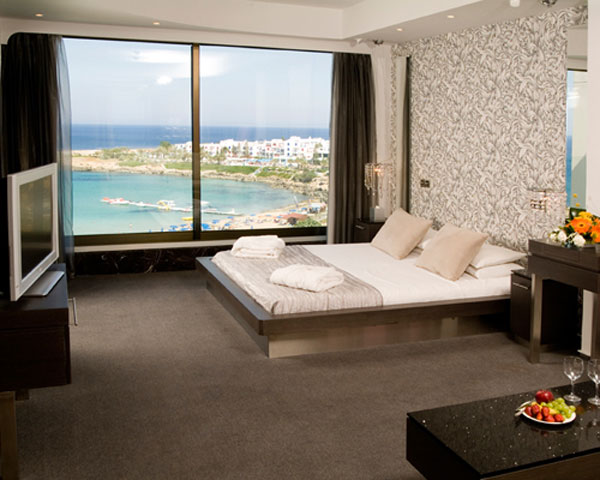 Capo Bay is the kind of place where you go in search of sunshine. You snooze by the bay and sip cocktails at 2pm. It's where people read novels they're ashamed to tell their book group about and scorch their skin shellfish pink. It's also not real. So if you come across one of the 36 days a year when the weather turns grim, take it as a sign. It's time to move on.
Capo Bay
Protaras 2, Paralimni 5311, Cyprus.
First published on www.arbuturian.com